I guess this is coming a little late, but in all honesty, I forgot about the Bookopoly Contest because it got to a point that I realized that I wouldn't be able to finish the contest. I had just ended up reading too many
long
books, ha ha.
But, man, I read so many good books. I may not have reviewed them all, but they were good. They made me experience so many emotions and they inspired me to write (even though I don't have much to show for that at the moment).
A lot of things have happened in my life over the summer—I finished the practicum I needed to do in order to graduate from college (I'm still chasing after my teacher in order to go over what I did for the practicum because he's so busy—he's a photographer for Franklin Graham so he's always following him overseas—and he can't talk to me when he's busy); I have been job hunting but haven't heard anything back from any of the places I sent my resume to; I've grown addicted to
Lord of the Rings Online
, which is kinda dangerous; I went to the church camp out at the end of August; and I got into cross stitching again. When I talk about it, it makes my summer seem kinda lazy :P
But that didn't stop me from reading up to ten books! That's a record for me, I think. Tallying up what I read, it seems that I read 2 historical novels (1 being historical romance), 2 science fiction novels (1 being a graphic novel), 5 fantasy novels (1 being a historical fantasy), and 1 collection of one-page comics.
Some of the books I ended up reading this summer were books I never realized I would ever read. Or bring myself to read. But the point of the bookopoly was to go and read books you wouldn't normally read in order to accomplish all the categories of the contest.
Total Books Read for Contest: 10
A Defense of Honor by Kristi Ann Hunter
When Katherine "Kit" FitzGilbert turned her back on London society more than a decade ago, she determined never to set foot in a ballroom again. But when business takes her to London and she's forced to run for her life, she stumbles upon not only a glamorous ballroom but also Graham, Lord Wharton. What should have been a chance encounter becomes more as Graham embarks on a search for his friend's missing sister and is convinced Kit knows more about the girl than she's telling.
After meeting Graham, Kit finds herself wishing things could have been different for the first time in her life, but what she wants can't matter. Long ago, she dedicated herself to helping women escape the same scorn that drove her from London and raising the innocent children caught in the crossfire. And as much as she desperately wishes to tell Graham everything, revealing the truth isn't worth putting him and everyone she loves in danger.
The Sword of Shannara by Terry Brooks
Long ago, the wars of the ancient Evil ruined the world. In peaceful Shady Vale, half-elfin Shea Ohmsford knows little of such troubles. But the supposedly dead Warlock Lord is plotting to destroy everything in his wake. The sole weapon against this Power of Darkness is the Sword of Shannara, which can be used only by a true heir of Shannara. On Shea, last of the bloodline, rests the hope of all the races.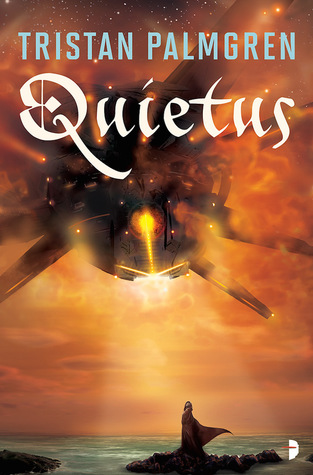 Quietus by Tristan Palmgren
Niccolucio, a young Florentine Carthusian monk, leads a devout life until the Black Death kills all of his brothers, leaving him alone and filled with doubt. Habidah, an anthropologist from another universe racked by plague, is overwhelmed by the suffering. Unable to maintain her observer neutrality, she saves Niccolucio from the brink of death.
Habidah discovers that neither her home's plague nor her assignment on Niccolucio's world are as she's been led to believe. Suddenly, the pair are drawn into a worlds-spanning conspiracy to topple an empire larger than the human imagination can contain.
The Hobbit by J.R.R. Tolkien
Bilbo Baggins is a hobbit who enjoys a comfortable, unambitious life, rarely traveling any farther than his pantry or cellar. But his contentment is disturbed when the wizard Gandalf and a company of dwarves arrive on his doorstep one day to whisk him away on an adventure. They have launched a plot to raid the treasure hoard guarded by Smaug the Magnificent, a large and very dangerous dragon. Bilbo reluctantly joins their quest, unaware that on his journey to the Lonely Mountain he will encounter both a magic ring and a frightening creature known as Gollum.
Falling Kingdoms by Morgan Rhodes
In the three kingdoms of Mytica, magic has long been forgotten. And while hard-won peace has reigned for centuries a deadly unrest now simmers below the surface.
As the rulers of each kingdom grapple for power, the lives of their subjects are brutally transformed... and four key players, royals and rebels alike, find their fates forever intertwined. Cleo, Jonas, Lucia, and Magnus are caught in a dizzying world of treacherous betrayals, shocking murders, secret alliances, and even unforeseen love.
The only outcome that's certain is that kingdoms will fall. Who will emerge triumphant when all they know has collapsed?
A Wrinkle in Time: the Graphic Novel by Madeleine L'Engle, adapted by Hope Larson
Late one night, three otherworldly creatures appear and sweep Meg Murry, her brother Charles Wallace, and their friend Calvin O'Keefe away on a mission to save Mr. Murry, who has gone missing while doing top-secret work for the government. They travel via tesseract — a wrinkle that transports one across space and time — to the planet Camazotz, where Mr. Murry is being held captive. There they discover a dark force that threatens not only Mr. Murry but the safety of the whole universe.
Mandie and the Medicine Man by Lois Gladys Leppard
A Cherokee superstition seems to have come back to haunt Mandie and her friends. The gold they discovered has been donated to build a new hospital, but something or someone is tearing down the walls as fast as they can be built. The guard posted to watch the site is knocked out, tied up and blindfolded.
Will Mandie be able to find her friend Joe? Will Mandie and Sallie be rescued from their kidnappers? Will Mandie learn her lesson about jumping to conclusions?
The Golem and the Jinni by Helene Wecker
Chava is a golem, a creature made of clay, brought to life by a disgraced rabbi who dabbles in dark Kabbalistic magic and dies at sea on the voyage from Poland. Chava is unmoored and adrift as the ship arrives in New York harbor in 1899.
Ahmad is a jinni, a being of fire born in the ancient Syrian desert, trapped in an old copper flask, and released in New York City, though still not entirely free.
Ahmad and Chava become unlikely friends and soul mates with a mystical connection.
An Ember in the Ashes by Sabaa Tahir
Under the Martial Empire, defiance is met with death. Those who do not vow their blood and bodies to the Emperor risk the execution of their loved ones and the destruction of all they hold dear.
It is in this brutal world, inspired by ancient Rome, that Laia lives with her grandparents and older brother. But when Laia's brother is arrest for treason, Laia is forced to make a decision. In exchange for help from rebels who promise to rescue her brother, she will risk her life to spy for them from within the Empire's greatest military academy.
There, Laia meets Elias, the school's finest soldier—and secretly, its most unwilling. Elias wants only to be free of the tyranny he's being trained to enforce. He and Laia will soon realize that their destinies are intertwined—and that their choices will change the fate of the Empire itself.
Herding Cats by Sarah Andersen
With characteristic wit and charm, Sarah Andersen's third collection of comics and illustrated personal essays offers a survival guide for frantic modern life: from the importance of avoiding morning people, to internet troll defense 101, to the not-so-life-changing futility of tidying up. But when all else fails and the world around you is collapsing, make a hot chocolate, count the days until Halloween, and snuggle up next to your furry beacon of hope.
The experience of devouring book after book this summer was envigorating, and I look forward to doing it again! ^^